HOLISTIC HEALTH GREEN

AQUAPONICS CAN INCREASE YOUR
FOOD YIELD BY TEN TIMES. ORGANIC
FOOD YOU CAN GROW JUST ABOUT
ANYWHERE. CLICK--->

SURVIVAL IS BASIC TO ALL LIVING THINGS, BUT HUMANS HAVE EXTRA TOOLS TO KEEP
THEM GOING, KEEP THEM ALIVE. GOING GREEN OR JUST LIVING A HEALTHIER LIFESTYLE
IS OFTEN TOO HARD FOR MANY PEOPLE. WE'VE FOUND THAT HYPNOTHERAPY AND/OR
NEUROLINGUISTIC PROGRAMMING CAN HELP ANYONE GET OVER THE ROADBLOCKS TO
CHANGE AND FEEL GOOS ABOUT THE CHANGES THEY MAKE. CLICK HERE AND LEARN
MORE----->

WATER! We absorb more toxins and carcinogens in 30 days of showers than we
do by drinking eight 8 oz glasses of water a day for a month. Our skin is the largest
organ of our bodies. It protects, but it also absorbs. Drinking bottled water removes
only a few toxins, and that's only if you trust the company you're spending your
hard-earned dollars on. Think holistic health - the whole body.
A whole-house water filtration system protects the entire family(even your pets),
cleans itself, and is guaranteed anywhere from 10-25 years. It's also portable and
can be moved if you move. Steve Russo knows about water and his design copies
what the earth does. Click here and give him a call.

IF YOU'RE A SMOKER AND YOU'RE TRYING TO GET HEALTHY,
DRINKING WATER, EATING GOOD FOOD AND TRAINING YOUR MIND
MIGHT NOT BE ENOUGH. TRY THIS METHOD IN CONJUNCTION WITH
THE REST OF YOUR PLAN.

For Vitamins/minerals and Young Living
essentials including therapeutic grade oils,
Ninxia Red and digestive aids click on
PRODUCTS

Earthwalk-usa
and Rayna G. recommend the products and plans on this page but are not responsible for results or complaints about any
plan or product used. Direct all complaints to the individual company.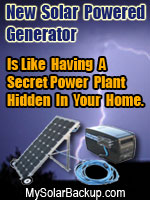 Solutions from Science has the
best generators and food storage
methods. Click on the generator
and explore!

lid=41000000037112973&pubid=21000000000599524&lsrc=17">